Cold Cats: Tigers and Panthers in the in the Snow
Some WIP photos (Still a fair wack of work to be done on them):
Following on from my post on the Hinterhalt (Ambush) Camo used in the Battle of the Bulge and the Battle for Germany, my thoughts swung to the conflict on the Eastern Front.
My proctrastination box delivered more Panzers in need of the brush. Tigers and Panthers came out.
The Heavy Tigers with their Begleit zug of Medium Panthers move out.
The Russians have been sighted!
Panthers from 3 different 1/72 plastic model producers, and 3 different models (Ausfuhrungs).
Italeri (L) and centre, Airfix 2nd from left and unknown manufacturer at centre. The Tigers are all from Italeri
I noted the 3 different exhaust configurations on the models, giving a hint that they were from differen production series. (apart from the driver, gun mantlets and commanders hatch configuration differences)
You may also notice that one Panther is slightly smaller - 1/76 I suspect, Airfix's ongoing cardinal sin, selling 1/76 as 1/72 ! It also happens to be the early (Ausf. D model) as used at Kursk. (2nd from left) The central model is an Ausf. A model, and the rest late war Ausf. G models, equipped with flame dampers for night operations, as in the Battle of the Bulge
Unusual picture of a dual exhaust, as seen in A Ausfuhrung (series), with flame dampers.
Presumably this Panther A survived to late in the war. The series numbers were designated from Ausf. D to A the G, not alphabetically.
Early (D) model exhaust configuration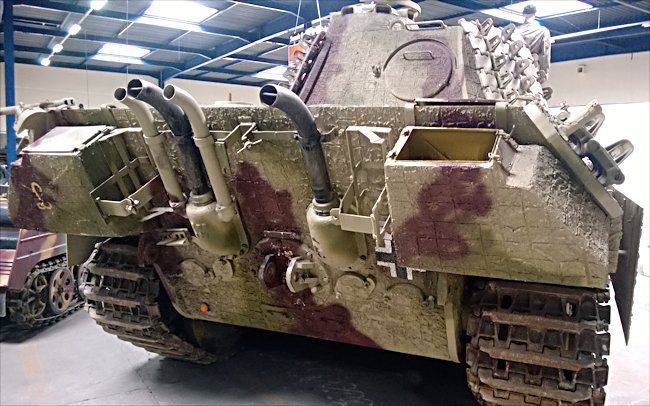 Ausf. A configuration
Ausf G without flame dampers
First production flame damper (Large bore curved)
Final production Ausf. G flame dampers (Cylindrical)
This photograph also shows the crew compartment heater which was installed on the last production models.Some late models also carried infra-red sighting gear for night operations
Crew compartment heater attached to air intake on a knocked out Panther. These were not made in the M.A.N factory, but were assembled elsewhere and fitted in the last stages of production. This modification was evident on Panthers in the Ardennes and Wacht am Rhein.
My infantry are all set on autumn bases, some with a light dusting of snow terrain, so they can be used in late summer, autumn, winter or early spring. For a winter game I would need appropriate armour though.
My attention was drawn to one tank in my collection in particular that was a hand-me-down. It was painted in honey-comb grey pattern, almost reminiscent of WW1 disruptive camo schemes, but less garish. It was based on the early to mid-war dunkelgrau paint schemes, with the occasional dark blue and green bit thrown in. I decided to give the Panzer force a similar look.
You can almost see the snow flying in this snap.
Weathering dust winterisation of a mottled PzKfw V Panther
I base coated the Tigers and Panthers in German Grey (Dunkel/Panzer Grau) and applied the honeycomb in Rain Grey freehand. I rather liked the look of the end-result, without filling in any of the honeycomb bits. It looked rather like hand-applied white-wash, hurriedly brushed on in the field (albeit with a little finesse)
88s swing to meet the enemy...
Next I decided to winterise the tanks. Tried two techniques, one being Humbrol's Winter pigment dusted on with a brush, and the other Spraypaint. The latter gave mixed results, mostly due to a malfunctioning, nozzle, leaving me more that just a bit miffed. That would teach me to be too lazy to clean the airbrush. The paint job was almost completely ruined. So a-weatherising, there we go...
Russian medium Tanks T34s await the attack. Obr 41s, 43s and T34-85s
Supported by some Su-76 tank destroyers
Pzkfw Vs in Battle of the Bulge Hinterhalt for comparison