WWII Soviet Female Soldiers and Fighter Pilots
While researching the role of snipers on the Eastern Front I came across some fascinating facts about the role women played, and the phenominal success some of the Russian female snipers and pilots had:

Women played a large part in most of the armed forces of the Second World War. In most countries though, women tended to serve mostly in administrative, medical and in auxiliary roles. But in the Soviet Union women fought in larger numbers in front line roles.

Over 800,000 women served their Motherland in World War II
Nearly 200,000 of them were decorated and 89 of them eventually received the Soviet Union's highest award, the Hero of the Soviet Union. They served as pilots, snipers, machine gunners, tank crew members and partisans, as well as in auxiliary roles. Very few of these women, however, were ever promoted to officers.
August 18, 1921 – August 1, 1943 (age:21)


Also known as Lydia Litviak or Lilya Litviak, was a female fighter pilot in the Soviet Air Force during World War II.

With 12 solo victories and either two or four shared, gained in 66 combat missions, she is one of the world's only two female fighter aces.

After the German attack on the Soviet Union in June 1941, Litvyak tried to join a military aviation unit, but was turned down for lack of experience. After deliberately exaggerating her pre-war flight time by 100 hours, she joined the all-female 586th Fighter Regiment (586 IAP), which was formed by Marina Raskova. She trained there on the Yakovlev Yak-1 aircraft.

She flew her first combat flights in the summer of 1942 over Saratov. In September, she was assigned, along with Katya Budanova, six other pilots, and accompanying female ground crew, to the 437th IAP, a men's regiment fighting over Stalingrad. She flew a Lavochkin La-5 fighter, and on September 13, 1942, she shot down her first two aircraft over Stalingrad. The first victory, won during Litvyak's second combat mission, was a Junkers Ju 88 bomber that she helped her regimental commander shoot down.

Minutes later, she scored the first solo kill ever by a female pilot, destroying a Messerschmitt Bf 109 G-2 "Gustav" piloted by an 11-victory ace, three-time recipient of the Iron Cross, Staff Sergeant Erwin Maier of the 2nd Staffel of Jagdgeschwader 53. Maier parachuted from his aircraft, was captured by Soviet troops, and asked to see the Russian ace who had out-flown him.

When he was taken to stand in front of Litvyak, he thought he was being made the butt of a Soviet joke. It was not until Litvyak described each move of the dogfight to him in perfect detail that he knew he had been beaten by a woman pilot.

On August 1, 1943, Lydia did not come back to her base of Krasnyy Luch, in the Donbass, from an escort to a flight of Ilyushin Il-2 Shturmoviks. It was her fourth sortie of the day. As the Soviets were returning to base near Orel, a pair of Bf 109 fighters dived on Lydia while she was attacking a large group of German bombers.

Soviet pilot Ivan Borisenko recalled: "Lily just didn't see the Messerschmitt 109s flying cover for the German bombers. A pair of them dived on her and when she did see them she turned to meet them. Then they all disappeared behind a cloud." Borisenko, involved in the dogfight, saw her a last time, through a gap in the clouds, her Yak-1 pouring smoke and pursued by as many as eight Me 109s. Borisenko descended to see if he could find her. No parachute was seen, and no explosion, yet she never returned from the mission.

Litvyak was 21 years old.







Roza Yegorovna Shanina




Born 1924 – January 28, 1945 (age: 21)


She was a Soviet sniper during the "Great Patriotic War"

She was responsible for 54 confirmed kills, including 12 enemy snipers, during the Battle of Vilnius

After attending Arkhangelsk Teacher's Training College, she became a mentor in the kindergarten. Then, she voluntarily joined the Vsevobuch and later the Central Female Sniper Academy in Podolsk. On June 22, 1943, Shanina enlisted in the Red Army and on April 2, 1944, joined the 184th Rifle Division, where a separate female sniper platoon was formed. She was awarded the Order of Glory on June 18 and again on September 22, 1944.

Once, upon receiving a battalion commander's order to immediately return to the rear, Shanina replied "I will return after the battle". The words later became a title of the book From The Battle Returned by Nikolai Zhuravlyov. On December 12, 1944 Roza was shot in the shoulder, and on December 27, 1944 was awarded the Medal for Valor among the first woman snipers

Shanina died in a battle near Rikhau. Her battle diary and several letters have been published. Streets in Arkhangelsk and in the settlements of Shangaly and Stroyevskoye were named after her.






Katya Budanova




1916 – July 19, 1943 (age: 27)


Yekaterina Vasylievna Budanova was a female fighter pilot in the Soviet Air Force during World War II. With 11 victories, she was one of the world's first two female fighter aces along with Lydia Litvyak.

She was born into a peasant family in Konoplanka village in Smolensk Oblast. Working in an aircraft factory in Moscow, she became interested in aviation and entered an aeroclub where she received her pilot training. She served as a flight instructor starting in 1937. She also took part in several air parades, flying the single-seater Yakovlev UT-1.

After the German attack on the USSR in June 1941, she enlisted in military aviation. She was assigned to the 586th Fighter Regiment. This unit consisted entirely of female pilots. She flew her first combat missions in April 1942 over Saratov. In September, she was assigned, along with other women (among them, Lydia Litvyak), to the 437th IAP, engaged in the fighting over Stalingrad. She soon became known for her aggressive attacking and high piloting skill.

She flew Yak-1 fighters. On October 6, she attacked 13 Junkers Ju 88 bombers by herself, shooting down her first aircraft. In November, she downed two Bf 109 fighters and a Ju 88. In the following months, she was credited with several more aircraft. In January 1943, she, along with her friend Litvyak, was moved to the 73rd Guards Fighter Regiment of the 8th Air Army. She soon was given the right of "solo hunting". On February 23, she was awarded with an Order of the Red Star.

On July 19, 1943, during a solo combat with three Bf 109, she shot down one, but was shot down herself and killed near the town of Antracit in Luhansk Oblast.

There are different data as for Katya Budanova's victory score in different publications, with no official tally. The most common quote is 11 kills (6 individual and 5 team kills). She was awarded the Order of the Red Star and the Order of the Patriotic War (twice). Although it was proposed, she was not awarded the title of Hero of the Soviet Union during the war. On October 1, 1993, she was posthumously awarded with the title Hero of the Russian Federation.


Lyudmila Pavlichenko
July 12, 1916 – October 10, 1974 (age: 58)
Lyudmila Mykhailivna Pavlichenko was a Soviet sniper during World War II, credited with 309 kills, and is regarded as the most successful female sniper in history.
In June 1941, 24-year old Pavlichenko was in her fourth year of studying history at the Kiev University when Nazi Germany began its invasion of the Soviet Union. Pavlichenko was among the first round of volunteers at the recruiting office, where she requested to join the infantry and subsequently she was assigned to the Red Army's 25th Rifle Division; Pavlichenko had the option to become a nurse but refused "I joined the army when woman were not yet accepted".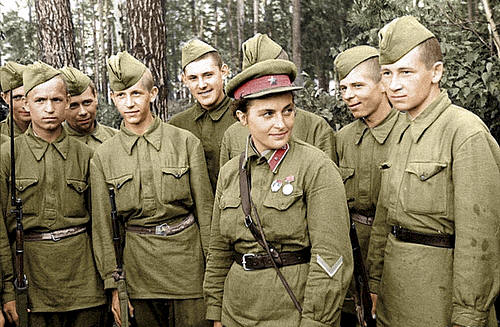 There she became one of 2,000 female snipers in the Red Army, of whom about 500 ultimately survived the war. As a sniper, she made her first two kills near Belyayevka, using a Mosin-Nagant bolt action rifle with a P.E. 4-power scope.


Pvt. Pavlichenko fought for about two and a half months near Odessa, where she recorded 187 kills. When the Germans gained control of Odessa, her unit was pulled to be sent to Sevastopol on the Crimean Peninsula, where she fought for more than 8 months. In May 1942, Lieutenant Pavlichenko was cited by the Southern Army Council for killing 257 German soldiers. Her total confirmed kills during World War II was 309, including 36 enemy snipers.

She recorded 309 confirmed kills, including 187 in her first 75 days on the job during the fierce fighting at Odessa, before the Soviets were forced to withdraw. Among her total confirmed kills, she knocked off 100 officers and 36 German snipers, including supposedly one who himself was one of the more decorated snipers in history, recording over 500 confirmed kills according to a log found on his person. (No info on the name of that German sniper though and only a few reputable sources that cite him, so take that latter fact with a grain of salt.)

It should also be noted that Pavlichenko's actual total number of kills was probably significantly more than 309 because in order for a kill to count towards her total, an independent party had to witness it. Her real total is thought to be closer to around 500.

Sniping being an extremely hazardous job, often with the sniper positioned in no-man's land between the lines of friendly troops and the enemy (Pavlichenko often camped around 600-1000 ft. in front of her unit), Pavlichenko didn't always come away unscathed. In June of 1942 during the siege of Sevastopol, she was seriously injured for the fourth time, this time by a mortar shell that had exploded near where she was hiding. Because at this point she'd become something of a celebrity and a public symbol, officials within the Red Army were unwilling to risk her being killed, so they put her on a submarine and got her out of Sevastopol and assigned her a new job as a sniping instructor and a public spokesman, with the rank of Major.

Pavlichenko was sent to Canada and the United States for a publicity visit and became the first Soviet citizen to be received by a U.S. President when Franklin Roosevelt welcomed her at the White House. Later, Pavlichenko was invited by Eleanor Roosevelt to tour America relating her experiences. The United States gave her a Colt automatic pistol, and in Canada, she was presented with a sighted Winchester rifle, the latter of which is now on display at the Central Armed Forces Museum in Moscow.
Having attained the rank of Major, Pavlichenko never returned to combat but became an instructor and trained Soviet snipers until the war's end. In 1943, she was awarded the Gold Star of the Hero of the Soviet Union, and was commemorated on a Soviet postage stamp.

American folk musician Woody Guthrie recorded a song in 1946 entitled "Miss Pavlichenko" as a tribute to her kill record, believed to have been written in late 1942. It was released as part of the Asch Recordings.

Pavlichenko died on October 10, 1974 at age 58, and was buried in the Novodevichye Cemetery in Moscow.